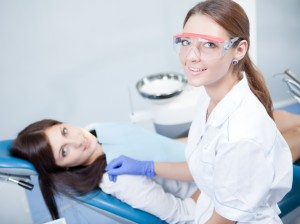 Most people know that it is important to brush and floss on a regular basis, and you most likely know to brush daily between meals, but do you know why? For the most part, brushing, flossing, rinsing with mouthwash and eating healthy can help limit the amount of plaque buildup you have. Plaque is the main perpetrator when it comes to dental health concerns such as cavities and gum disease and here at Corry Dental our Cedar City best dentist can provide you with the ultimate preventative care required in order to limit the amount of harm plaque can do to you and your overall dental health.
There are plenty of things that you can do on a daily basis to help clean away plaque and prevent it from causing problems with your dental health. Plaque, tartar and other types of harmful bacteria builds up along your teeth and gum line throughout the day. As this bacteria builds up, it can begin to react negatively with the things that you eat. When you consume food stuffs with a lot of sugar or starches, it incites an acidic reaction which can weaken your tooth enamel over time and eventually inflame and irritate your gums. As this worsens, dental health insurance ensue. Plaque and bacteria buildup puts you at risk for things such as cavities and gum disease, which is why brushing daily is so important. But there is still more that you can do in order to ensure that your teeth and gums are as healthy as possible. Here at Corry Dental, our Cedar City best dentist can also provide you with the routine preventative care that you need to further protect your dental health. It is generally recommended that people of all ages have their teeth thoroughly examined and professionally cleaned about twice a year or around once every six months or so. A professional dental cleaning is thorough but it is also gentle, and it is implemented in order to clean away hard to reach and hard to clean plaque buildup that can still cause cavities or gum disease. If our dentist notices any patterns, they may also be able to provide you with advice in regards to bettering your at-home oral hygiene routine.
In order to beat protect your dental health, consider scheduling routine exams and cleanings here at Corry Dental with our Cedar City best dentist. Doing so can help limit the amount plaque buildup you have and the amount of damage that it can potentially do.
Corry Dental
427 S. Main St.
Cedar City, UT 84720
Call: 435-562-7068