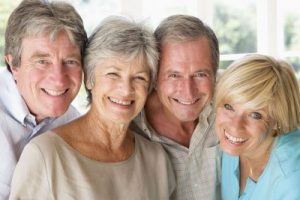 When you have a missing tooth, the imperative is to have that empty space filled as quickly as possible. But why settle for just a placeholder when you can have a replacement that looks, feels, and acts like a real tooth? That's what you get with our Cedar City dental implants here at Corry & Lewis Dental.
What makes an implant so different from traditional bridges and dentures? The key thing that sets it apart is that it is not just on the surface of your gums. It extends below them, right into the jaw bone. So while a fixed bridge causes you to lose material from surrounding teeth, and dentures make you use messy adhesives, with our Cedar City dental implants, you have an artificial tooth that stands on its own. The process is simple and takes just a few months from start to finish in most cases. First, you will come in for a consultation and examination, during which our implant dentist tests your jaw bone to ensure that it meets the standards that will result in a successful outcome. If not, you can get bone grafting done to correct the situation. The first part of our Cedar City dental implants is the root, which is represented by a titanium post that is surgically placed in your jaw. Once your bone tissue grows around it and fuses with the post, you are then prepared for the tooth. Impressions are taken and used to make a precisely fitting crown fashioned out of tooth-colored material. It is cemented to the post for permanence.
How long can you expect your implant to last? The indications are that you should get many years of use. With proper care, it can last a lifetime. So reach out to our office and let us schedule your first appointment to get started.