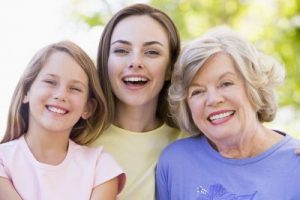 Are you looking for a viable solution for your chipped, cracked or stained teeth? If so, you might want to consider getting dental veneers in Cedar City. Even though there are other teeth restoration options available, veneers are among the most popular because of the beautiful, natural appearance they offer patients.
Dental veneers in Cedar City are wafer-thin, custom-made shells that are used for tooth restoration purposes. They can be made of composite resin as an alternative to porcelain, but porcelain is by far the favorite among patients due to its natural color and appealing look. Porcelain veneers can be used for many different types of restorations. It can be used to correct teeth that are: cracked, chipped, stained or discolored. They can be used to restore a single tooth or several teeth. During the procedure, a highly-trained dentist like our experts at Corry & Lewis Dental will bond the porcelain veneer to cover the front of your tooth in order to restore it. When the porcelain shell is bonded to the front of your damaged tooth, it will change its change the shape, size and color of your tooth, greatly improving its appearance. Because it's the same color as a natural healthy tooth, your restored tooth will look very natural. This is why many people prefer porcelain veneers. The aesthetic benefits can help patients to gain confidence and to improve their social life and overall quality of life. The new pearly white smile enables people to feel comfortable smiling and laughing once again. In addition to its fabulous cosmetic benefits, porcelain veneers have functional benefits as well. They can help improve the functionality of patients' teeth, leading to an improvement in their ability to eat and to speak.
Allow us to provide you with a new and improved smile. Contact our office to schedule your dental veneers in Cedar City consultation today.